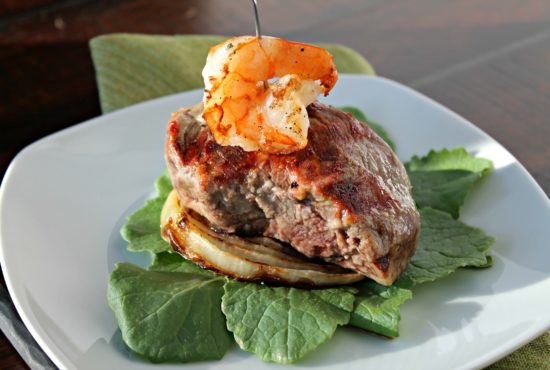 Marinate steak, shrimp and onion in ½ cup Drew's Organic Romano Caesar Dressing & Quick Marinade for 30 minutes.
Heat grill to medium high. Oil grill grates. Place onions and steak on the grill. Grill steak until desired doneness, flipping both steak and onions halfway through cooking time. Remove steak and onions from the grill. Place shrimp on the grill and cook 1-2 minutes on each side or until they turn pink and opaque.
Assemble towers by placing the onion rings on a plate and topping with the steak then the shrimp. Place a toothpick top down through the tower. Serve with additional dressing for dipping, if desired.
Jenny Shea Rawn MS, MPH, RD is a Cape-Cod, Massachusetts based Registered Dietitian, nutrition communications consultant and healthy food blogger at My Cape Cod Kitchen.
Ingredients
time2 - 8 oz. sirloin steaks
2 large shrimp, peeled and deveined
1 large onion, thickly sliced