Swordfish and Veggie Kabobs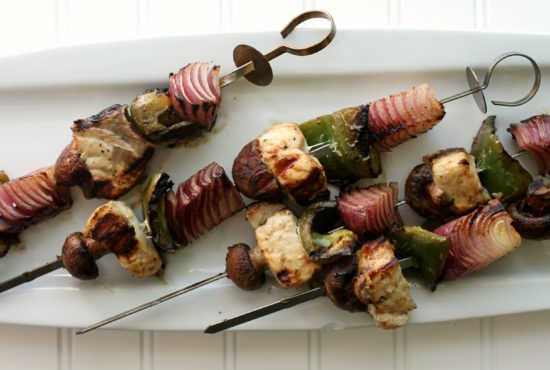 Wash and dry green peppers and onions and cut into 1 inch chunks. Clean mushrooms and slice in half. Trim skin off swordfish then slice into 1 inch chunks. If using wooden skewers, soak in water for 30 minutes. Thread fish, green peppers, onions and mushrooms alternatively onto 8 skewers. Place skewers onto a large shallow baking dish and drizzle evenly with marinade. Set in the fridge for 30 minutes, rotating skewers after 15 minutes.
Heat grill to medium. Discard extra marinade and grill kabobs for 20 minutes, or until desired doneness, turning once halfway through cooking time. Remove from the grill and serve with extra Drew's Organic Roasted Garlic & Peppercorn Dressing & Quick Marinade for dipping.
Tip: you can also place fish and veggies into a large resealable bag with the marinade prior to threading on skewers, but the chunks of onion may separate. I found it easier to marinate in a shallow baking pan to ensure the onion pieces stayed together.
Jenny Shea Rawn MS, MPH, RD is a Cape-Cod, Massachusetts based Registered Dietitian, nutrition communications consultant and healthy food blogger at My Cape Cod Kitchen.
Ingredients
1.5 lb. swordfish steaks
2 medium green peppers, cored
2 medium red onions, ends trimmed and peeled
1 - 8 oz. package baby bella mushrooms