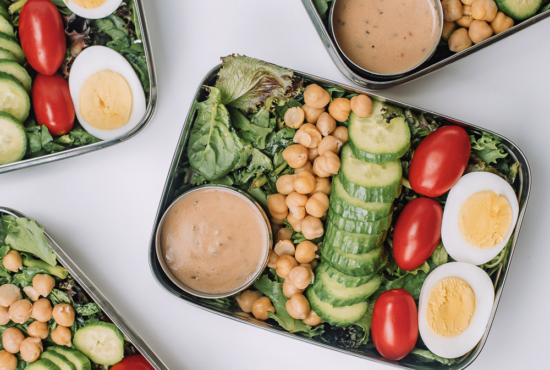 First, gather the salad greens, mini cucumbers, grape tomatoes, chickpeas and hard boiled eggs.
Cut all the veggies into small bite-sized pieces and rinse the canned chickpeas with water in a colander.
Arrange the bento box by placing greens first and layering on top in different rows the sliced hard boiled eggs, grape tomatoes, cucumbers and chickpeas.
Pour Drew's Tahini Goddess Dressing into a small portable container and add to the corner of the bento box. Prep by making a few extra bento boxes for a week's worth of lunches!
Jasmin Foster is a registered dietitian and food photographer in Washington, D.C. who believes in healthy balanced eating.
Ingredients
6 cups salad greens
4 hard boiled eggs
1.5 cups grape tomatoes
3-4 mini cucumbers
1.5 cups chickpeas