Tahini Goddess Chicken and Pasta Salad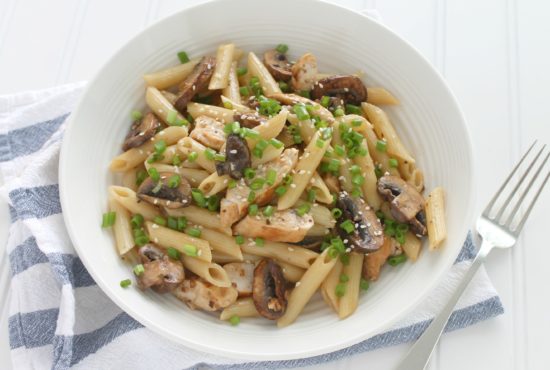 Marinate chicken in 4 oz Drew's Organic Tahini Goddess Dressing & Quick Marinade in a resealable bag in the refrigerator for 30 minutes. Place a large pot of salted water on the stovetop and bring to a boil. Add the penne to the water and cook according to the instructions on the package, until tender. You'll want to cook the pasta past al dente so it remains soft when chilled. Run the pasta under cold water to chill and toss pasta with remaining 4 oz Drew's Organic Tahini Goddess Dressing & Quick Marinade. Heat olive oil in a sauté pan over medium heat. Add sliced mushrooms and sauté until lightly browned, stirring frequently. Add garlic during the last minute of cooking the mushrooms. Remove mushrooms from pan and set aside. Add chicken (discard marinade) to the sauté pan and cook chicken over medium heat, flipping after 3-4 minutes. Cook chicken until it reaches an internal temperature of 165 degrees F, as measured with a meat thermometer.  Cooking time will vary depending on the thickness of the chicken. Remove chicken from pan and slice. Combine pasta, mushrooms, chicken and scallions. Dish onto plates, sprinkle with sesame seeds and serve or chill until ready to serve. Enjoy!
Jenny Shea Rawn MS, MPH, RD is a Cape Cod, Massachusetts based Registered Dietitian, nutrition communications consultant and healthy food blogger at My Cape Cod Kitchen.
Ingredients
1 pound chicken tenderloins
1 pound penne pasta
1 tbsp extra virgin olive oil
8 oz baby bella mushrooms, sliced
3 cloves fresh garlic, chopped
1 bunch scallions, thinly sliced
2 tbsp sesame seeds