Tahini Goddess Turkey Sliders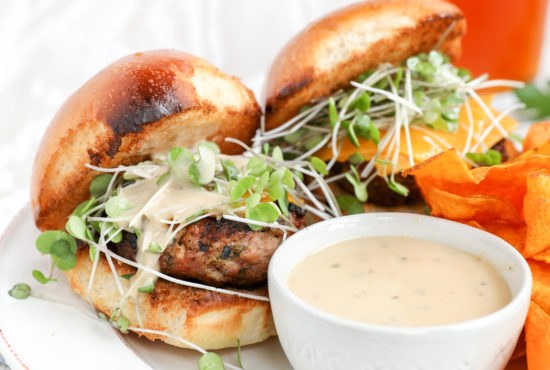 Preheat grill to high heat. Clean and oil grates. Prepare a large baking sheet or tray with tin foil (you'll use the baking sheet to transport the sliders).
In a large mixing bowl, combine ground turkey, chopped mushrooms, Drew's Organics Tahini Goddess Dressing and Marinade, beaten egg, parsley, chives, salt, garlic and black pepper.
Scoop a small handful (about ¼ cup) of turkey meat into the palm of your hand and shape into a small patty. Place onto baking sheet and repeat until all the turkey meat is gone. Place patties onto grill and reduce heat to medium high. Discard tin foil or wash tray with hot soapy water. Grill about 5 minutes, then flip and grill until internal temperature reaches 165 degrees F, as measured with a meat thermometer in the thickest part of the burger, about 5 minutes more. Add cheddar to the sliders just before removing from the grill.
Place sliders on buns and top with microgreens and a drizzle of Drew's Organics Tahini GoddessDressing and Marinade, if desired. Serve.
Jenny Shea Rawn MS, MPH, RD is a Cape-Cod, Massachusetts based Registered Dietitian, nutrition
communications consultant and healthy food blogger at My Cape Cod Kitchen.
Ingredients
1 lb ground turkey breast
1 3.5 ounce container sliced shitake mushrooms, finely chopped
1 egg, beaten
2 tablespoons chopped parsley
2 tablespoons sliced chives
1 teaspoon kosher salt
½ teaspoon garlic powder
½ teaspoon ground black pepper
5 slices cheddar cheese, halved
10 slider buns (for serving)
Microgreens (or any baby lettuce) for serving