Thai Coconut Shrimp Skewers with Avocado Tomato Salad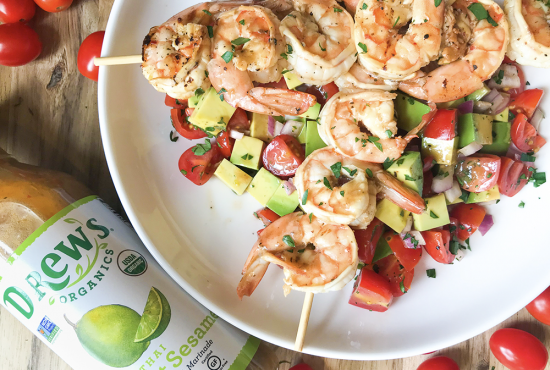 Begin by peeling, deveining and cleaning all twelve of your shrimp.
Add 3 tablespoons of Drew's Thai Coconut Sesame Dressing to the shrimp and mix thoroughly. Cover tightly with plastic wrap and refrigerate for up to 4 hours.
If you're using wooden skewers, be sure to soak them in water before use to prevent them from burning once put on the grill. Metal skewers are also a great choice.
Skewer and lightly season your shrimp with salt and pepper. Then, set the skewered shrimp aside in the refrigerator.
With a knife, quarter the cherry tomatoes. Dice the red onion into small cubes and dice both ripe avocados into medium cubes. Finely chop the parsley. Add the prepared cherry tomatoes, red onion, avocado and parsley to a bowl and use the remaining 2 tablespoons of Drew's Thai Coconut Sesame Dressing to dress and mix the salad. Season to taste.
Bring the shrimp skewers to a preheated and lightly oiled grill. Cook each side thoroughly, grill marks are encouraged but do not overcook.
Serve on the skewer or carefully slide the shrimp off the skewer into the salad. Enjoy!
Sharon Allen of Girl Eats Texas is a private chef and recipe creator working to create delicious and innovative recipes.
Ingredients
2 tbsp red onion (diced)
2 avocados (diced)
1 cup cherry tomatoes (quartered)
2 tsp parsley (finely chopped)
5 tbsp Drew's Organics

salt
pepper
fresh lime (optional)
12 jumbo shrimp (peeled, cleaned & deveined)