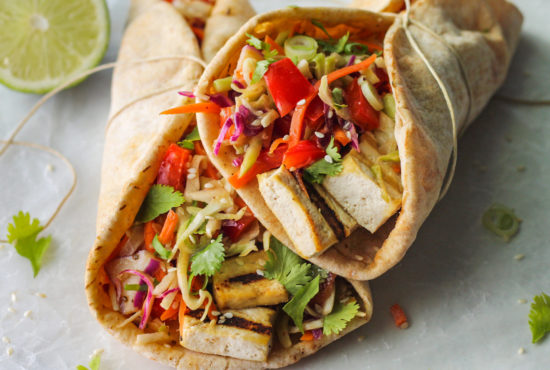 How to Grill Your Tofu
Take the tofu out of the package and drain excess water. Rise the tofu
and pat dry using a paper towel.
Place the tofu on 2 paper towels or a clean kitchen towel and put it on a
 large plate.
Add 2-3 heavy ceramic bowls on top of the tofu. The weight of the bowls
will not squish or break the tofu but will simply just push the majority of
the water out of the tofu. Let the tofu release the excess water for 20-30
minutes.
Cut tofu into thin long slices to fit in the wraps better.
Place the grill pan on your stove. Heat your grill pan on medium to high
heat. Once hot, spray the pan with oil and spread the tofu slices out
evenly. Avoid stacking the tofu so they grill evenly.
Lay your tofu on the pan and grill for 3 minutes. Flip tofu and grill for an
additional 3 minutes.
Don't have a grill pan? Bake your pressed tofu instead. Preheat your oven
to 400 degrees F. Spray a baking pan with oil and evenly lay
the tofu on the pan. Bake for 30 minutes and add it to your wrap.
Preparing Your Wrap
In a large bowl combine the red bell pepper, carrot, shredded cabbage, salt,
 pepper and Drew's Organics Thai Coconut Sesame Dressing, then toss.
Assemble your wraps. Lay the tofu down first and add the cabbage mix on
top. You can use string to tie the wrap together or just eat it as is.
Garnish with chopped green onions, fresh cilantro and sesame seeds. Drizzle with
 additional dressing and eat!
Leftovers will last wrapped up in the refrigerator for 1 day.
Marissa Wong is a food blogger living in North Carolina writing about vegan recipes, vegan product and health tips.
Ingredients
1/4 cup Drew's Organics

1/2 package of extra firm tofu (pressed with the water removed and cut into thin long slices)
3 medium wraps
1/2 cup red bell pepper (chopped)
1 large carrot (julienned)
3/4 cup shredded cabbage
1/8 tsp salt
1/8 tsp pepper
1 tsp neutral oil (this is for the grill pan)
green onion (chopped)
fresh cilantro (chopped)
sesame seeds